How to use edible flowers for a stunning designer cake
Tips and Tricks
How to use edible flowers for a stunning designer cake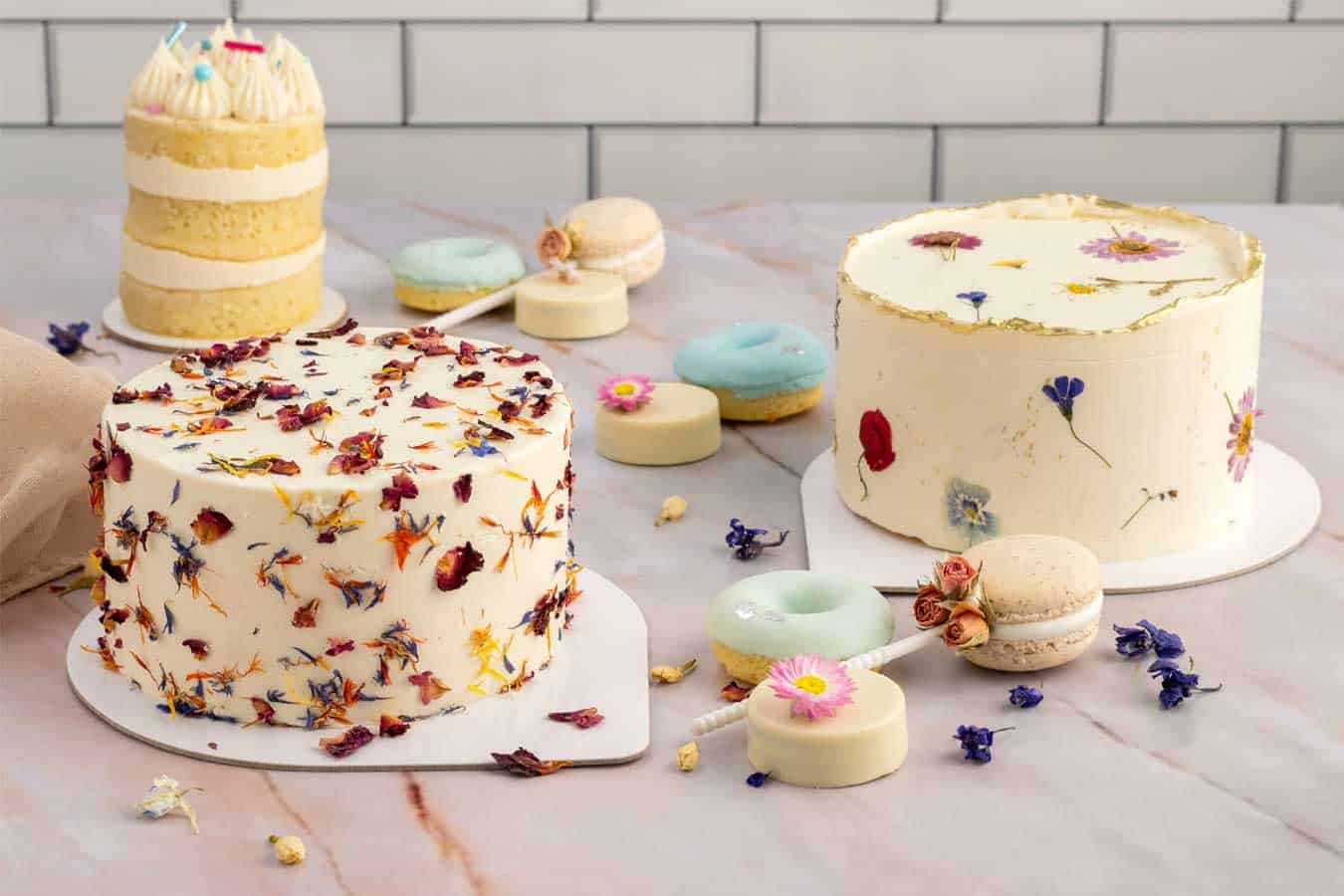 Flowers have been used to add flavor and beauty to food for centuries. But the use of flowers to decorate desserts, specifically cakes, can be traced back to the Victorian era when bakers would use violet and borage flowers to decorate their desserts. Over the centuries, this practice was refined. Today it is not uncommon for pastry chefs and others to use nature's bounty to decorate their sweet treats.
Whether used as a styling prop, between layers of cream, or as a bold bouquet on a wedding cake, the possibilities of using flowers to dress up a dessert are endless. In other words, a single flower when used tastefully creates a masterpiece of your dessert. If cake decoration with flowers inspires the artist in you, read on. This guide will teach you about using dried and fresh flowers for cake decorating and dressing up any other dessert.
Common edible flowers for decorating desserts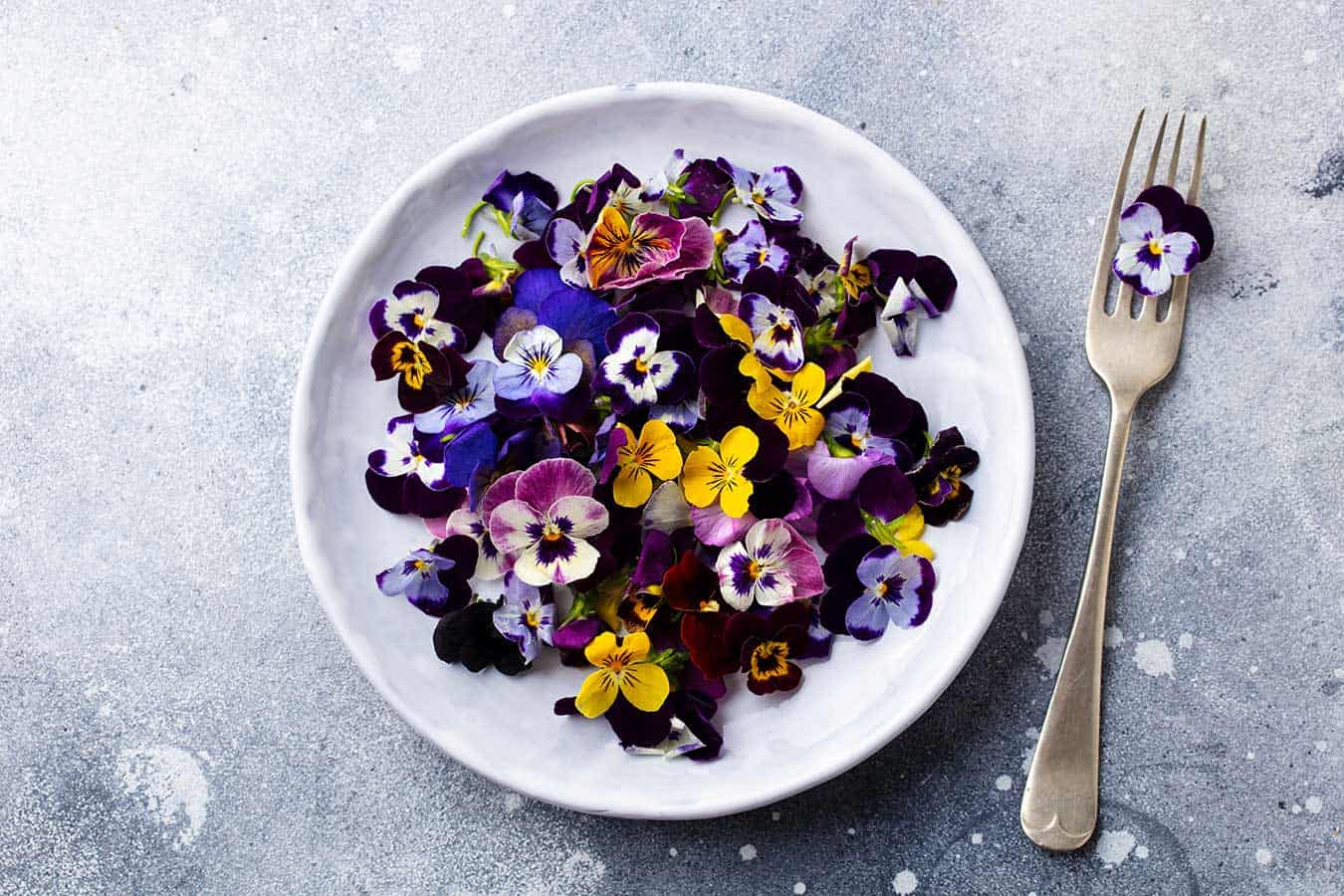 Butterfly pea: This gorgeous violet-blue flower has a unique grassy aroma similar to green tea. This flower is a great choice for a dessert with a tropical vibe. Butterfly pea flowers can be dried and stored for a long time.
Hibiscus: This is yet another gorgeous tropical flower. It has a cranberry-like flavor with citrusy overtones. Large flowers like the hibiscus do well for a bold and dramatic appeal. But remember to remove the pistil and stamen of this flower before use.
Lavender: This delicate bloom has a sweet, floral aroma with citrusy notes. It is used to flavor and garnish desserts such as cakes, custards, ice creams, and sorbets. The unusual color of this flower gives it a dreamy and romantic feel, making it a good choice for desserts made for wedding parties.
Marigold: Marigold petals have a beautiful orange-yellow hue and a faint citrusy aroma. These tightly packed blooms can be used as whole flowers or with their petals separated and sprinkled over desserts.
Nasturtium: Both the flowers and leaves of this plant are edible. They add a delicate peppery flavor to dishes. Nasturtium flowers come in various colors, from bright orange to yellow to red. The leaves are round and flat.
Pansy: These beautiful multi-colored blossoms look beautiful as garnishes on desserts. They have a sweet green flavor. The petals have a very mild flavor, but if the whole flower is used, it imparts a wintery green overtone.
Rose: All roses are edible and typically have a sweet fruity fragrance reminiscent of strawberries and green apples. Darker petals usually have a stronger smell. Miniature roses look stunning as bouquets on large desserts like wedding cakes. Dried or fresh rose petals can be cooked or sprinkled on top.
Tips for choosing the correct flowers
Now that we have established the enchanting charm of flowers in desserts, it is important to learn to choose the right flowers for this purpose. While all flowers can look pretty on your dessert, only a few are safe for consumption. Remember, no designer cake is worth falling sick over!
Edible versus non-toxic flowers: Many flowers are non-toxic, but not all of these are edible. This means that some may be safe to use on desserts but only as décor. Many others can not only make you sick but even prove fatal! So, pick your flowers widely before adding them to food.
Sourcing edible flowers: After zeroing in on your flower of choice, it is time to acquire them. Depending on where you live, you should be able to find edible flowers at specialist bakery shops or high-end supermarkets. Most florists across India do not sell edible flowers. Remember that flowers sold for ornamental purposes are often sprayed with chemicals. It is best to avoid using these for food. If you must, use them to decorate around your desserts rather than using them as food. When shopping for flowers, look for words like 'edible', 'culinary', and 'organic' on the packaging. These indicate the flowers have been grown specifically for food.
Fresh or dried, pressed flowers: A great hack to preserve edible flowers is to press them dry. For instance, you may have bought a big bag of butterfly pea flowers or pansies but need only a few at a time. You can always press the extra blooms inside two layers of parchment paper and keep them for later use. Once dry, most flowers will keep for a long time. Dried flowers are perfect for creating a rustic, artsy vibe.
Styling ideas to create a designer cake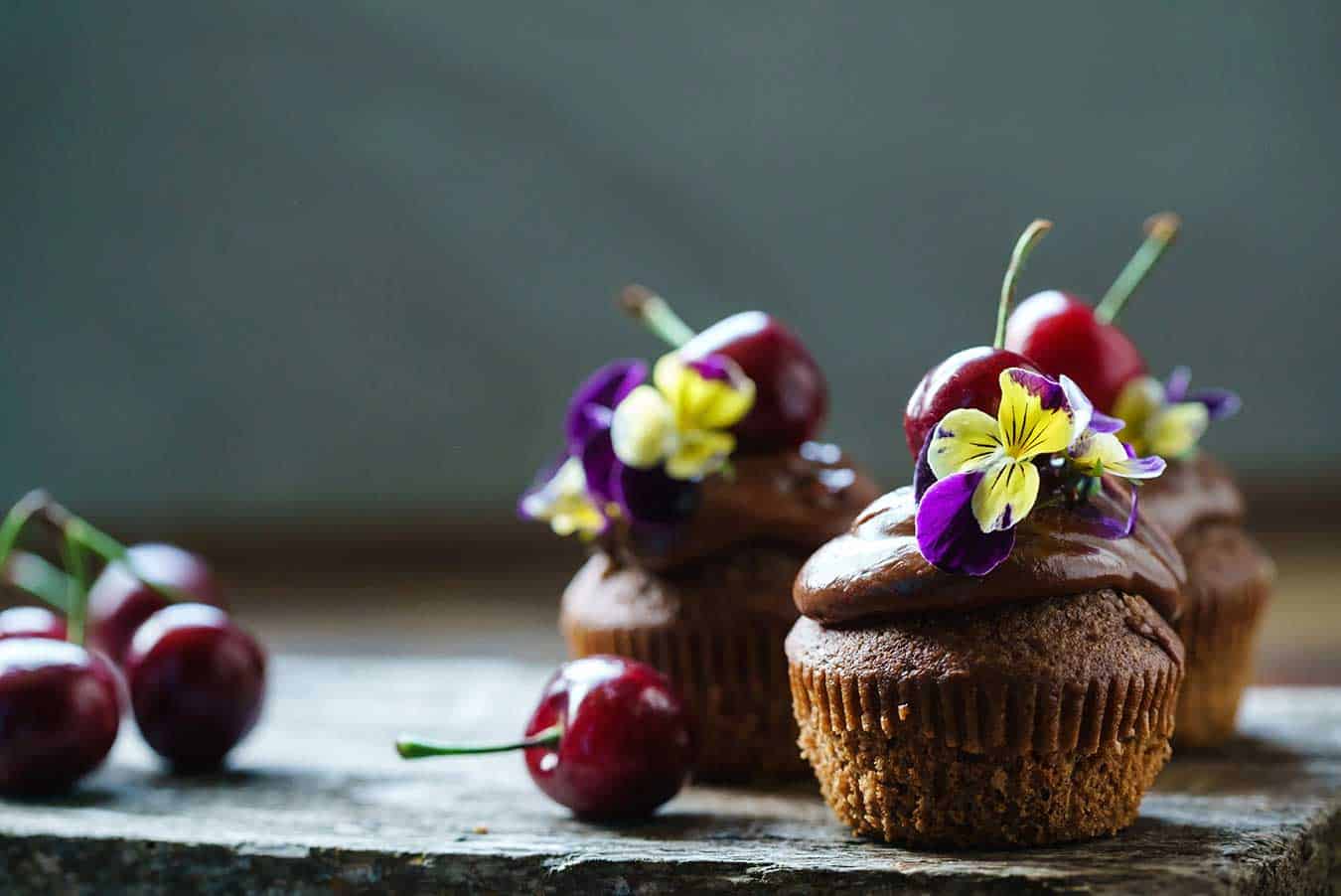 Keep it simple: The simplest method is to use a single blossom for each dessert or serving portion. For example, if you add a single flower on top of this delectable Choco Melts Cinnamon Mousse, you have a winner that will impress your guests without fail.
Mix it in: This is a good technique for dried flowers. Instead of adding them on top, whip them in the icing or add them to the laddoos mix. Try making these Oreo No-Bake Margarita Bars and blend some dry flowers into the cream cheese topping for a pop of color and flavor.
Half and a half: For an interesting visual, decorate half of your dessert with flowers while keeping the other half clean and simple. This is a great technique to create a modern, edgy look. If you are making these yummy Chocolate Sandesh sweets for Holi, try pressing fresh marigold petals on half of the sweet. The bright orange petals will add color and tie in with the spirit of Holi.
Go bold. Go wild: If you are going for a bold and dramatic look, this is your cue to go wild. Use a variety of large and small blooms and layer them on and around your dessert. You'll be surprised by the results! This idea will work great on cakes and desserts that have a smooth plain surface. A simple Rich Chocolate Tart can be transformed into a designer cake with the simple addition of colorful blooms.